"Liberating health professionals to take back control, tech-enable and provide more meaningful and convenient care"
Mark is a dynamic and driven leader with over two decades of experience in building, running, and leading successful businesses across the globe. He is renowned for his strategic vision, meticulous planning, and exceptional execution skills, as well as his ability to cultivate high-performing teams with winning cultures. As the head of Dreamscape Networks, Mark was responsible for driving the company's global expansion, growth, and profitability, as well as shaping the vision and direction of our world-renowned brands. He is a master at identifying new markets, conducting thorough due diligence and feasibility studies, and crafting localized marketing strategies that drive the success of our global brand. Mark is also fiercely committed to providing millions of customers with the best service in the world, and he has an unparalleled talent for building and managing top-notch technical support and customer care teams. His passion for results, team-building, and creating winning environments is the driving force behind Dreamscape Networks' unique and vibrant culture. Our headquarters were located in Singapore, with major offices in Australia, New Zealand, the Philippines, Hong Kong, Indonesia, and Ukraine. Our core values form the foundation of everything we do.
A reputation for precise planning, strategy and execution.
As the Founder and CEO of Upvio, a revolutionary telemedicine platform, I am responsible for the overall direction, growth, and profitability of the company. Our vision is to liberate healthcare professionals and empower them to take back control, using technology to provide more meaningful and convenient care to their patients.
CEO of International Newfold Digital
Following the successful merger of Web.com Group and Endurance Group, forming Newfold Digital, Mark was promoted to the CEO of International. Mark was responsible for successfully managing and operating all companies and brands outside of the USA whilst making sure there was global alignment. Post-merger, Newfold Digital became the 2nd largest traditional Domains and Hosting provider in the world at a combined value of approximately USD $4b. Mark continued to build Dreamscape Networks and its global brands operating in Australia, New Zealand, Singapore, United Kingdom and throughout Southeast Asia to a combined company value of over A$300m, $110m in annual revenues, and $33m annualised EBITDA.
In Mark's pursuit of further accelerating growth and having access to additional funds, Dreamscape Networks decided to delist from the ASX and partner with Web.com in the USA agreeing a private equity deal allowing Dreamscape to continue their focus on Australia and Southeast Asia with the satisfaction of having a $2b USD strategic industry partner that could support and provide some serious horse power for continued growth and global expansion. 
2017 Since publicly listing on the ASX, Dreamscape Networks successfully acquired thirteen companies. As well as Australia's Enetica Group, Net Logistics, Quadra, Dreamscape Networks broke new ground acquiring Singapore's #1 hosting provider, Vodien Internet Solutions. Using Singapore as our global HQ, Dreamscape Networks has accelerated growth and experienced exponential growth in the Southeast Asian region, whilst maintaining leadership status in Australia.
Under Mark's direction. Dreamscape Networks provider launched its highly successful IPO with investment spread across institutional funds as well as retail platforms Equitise and OnMarketBookBuilds which both closed and noted as oversubscribed following enthusiastic interest from investors. The IPO raised A$25 million for the company.
Building on his experience and knowledge of local markets, and his reputation for as creating high-performing teams, Mark established Dreamscape's Best In World (BIW) Customer and Technical Support Centre in Cebu City, Philippines, known locally as the IT hub. The support team grew to over 900+ staff working around the clock to support and service the global customer base.
Since being appointed CEO, Mark has applied his experience and vision and repositioned the brand into a trusted and affordable online services provider with premium service. Mark has proven himself as a true leader of Dreamscape Networks as soon after his arrival, the company experienced the rapid global growth that has cemented its status as an innovator and market leader.
Sales & Marketing Manager, ABN Group, Melbourne, Victoria
Mark was handpicked by the company to head two new start-up building companies in Melbourne, Victoria. He successfully drove sales revenue from $0 to $220m per annum and the company into Victoria's top ten builders within 2.5 years.
Sales & Marketing Manager, ABN Group, Perth, WA
Mark continued to expand his skills and seek new challenges, taking charge of Sales & Marketing for one of Australia's largest and most admired billion-dollar private residential building companies, the ABN group.
CEO, Global TSCM Group Limited
Mark cut his teeth in the corporate world early on. During his early twenties, he started and built one of Australia's top security and investigation firms. This success led to a CEO role in a high-end security company, working internationally with a range of technology suppliers throughout the Asia Pacific.
Mark's successful body-building career and unrelenting work ethic have paved his business and life philosophy. He believes achieving big goals is a slow and painful process that requires, laser focus, complete dedication and persistence. A little must be done each day to improve, as the pain of discipline is nothing compared to the pain of regret.
He believes you need unwavering self-belief, stamina, a clearly defined goal, and most of all resilience. You have to remain determined in the face of adversity, be the best version of yourself every single day and not care what others think of you.
Upvio is a revolutionary healthcare technology company that builds software designed to empower medical, health and wellness professionals to tech-enable and adopt groundbreaking tech-tools that redefine hybrid, virtual and remote care
Internationalisation & Globalisation
How AU and NZ SMBs Can Survive Post Covid
Our Crazy Domains CEO Mark Evans chats with AusBiz's Startup Daily to talk about OnlineFest 2020 – a two-day online learning festival that aims to engage and educate entrepreneurs and business owners in Australia and New Zealand on how to set up your business for success in Covid-19 and beyond.
With this event being completely free of charge, come as you are and leave equipped with tools to help you build your online presence and thrive in this new business landscape.
We'll see you on 28th and 29th October!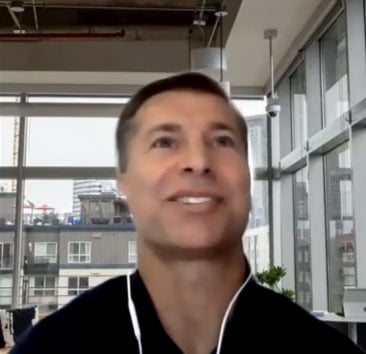 Chief Executive Officer
ADVANCED HUMAN IMAGING
Mark is one of the hardest working individuals I have ever come across. Mark's dedication to provide the BEST customer service in all of the Dreamscape
ABN Group Victoria
MANAGING DIRECTOR
Mark left our business to pursue his own interests years ago and staff and suppliers still ask after him ! Mark is a great person to be around and is able to infuse energy
It has been an honor and privilege to work for and alongside you. Your support to myself and my team has been amazing. You have trusted and enabled myself and the team to try new things, believe in ourselves and backed us up along the way. You have forever changed my professional career and most importantly how I approach building up and working with my team. You have truly lived the values you preached.
Robert Winkelmann
Chief Marketing Officer
Dreamscape Networks Inc.
You have influenced us all in varying degree's, but I can comfortably say the majority of the value we have all benefited from is the culture we have built in Dreamscape across all locations, across the whole organisation. Personally this influence is something I am strongly advocating we continue. I pledge that with every ounce of energy and passion I can give, we will maintain this culture and continue to drive towards our strategies, goals and objectives.
Gavin Gibson
President Newfold Digital
APAC and UK
I can't thank you enough for everything you did for the entire Cebu staff and me. I am forever grateful to you. You have been my mentor, great guardian, advisor, friend and great Boss. I have grown a lot under your leadership. You have helped me to believe in myself, which I was always doubtful of. You have helped me undergo immense pressure and changes throughout the years. Without these pressure and changes, we wouldn't be here today.
John Tamang
General Manager
Dreamscape Networks Inc.